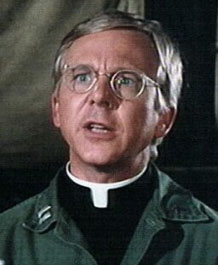 Interesting article in
the Christian Science Monitor
about the Army's attempt to recruit more chaplains -- right now, it's roughly 450 short of the 3,000 it would like to have, with National Guard and Army Reserve units the most in need.
The good news: you're definitely working with people who could use some help. What's more, the pay isn't bad: seminary students who
sign up with the National Guard
, for instance, can get a $10K signing bonus and up to $4,500 year for educational expenses -- and if you've already completed seminary, you can be forgiven as much as $20,000 in student loans.
The bad news: the prospect of violent death. Then too, signing up with the National Guard or Army Reserve commits you to one weekend of training per month -- and yes, that's kind of hard to manage if you're pastoring a two-church district on your own. But if you're an associate pastor whose church is willing to work with you on this (
and
you have an M.Div.
and
you're somewhere between the ages of 21 and 42), then . . .
Well, the least you could do is click on the title of this post for the article.